Get The Best Bang For Your Buck Whether You're Staying Or Selling!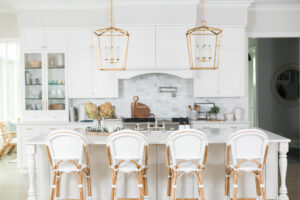 Whether you are thinking about remodeling your home to sell or would like to enjoy it for a while here are a few tips and tricks to get the most out of your projects!
Paint: A new coat of paint is the most inexpensive way to give your home a face lift and has one of the best returns on investment. New paint lightens rooms, hides visual defects, and instantly makes a space feel fresh and clean.
Garage Door Replacement: If you are thinking of selling, this is one of the highest returns on investment, according to Remodeling's 2018 Cost vs. Value Report, at 102%. Replacing your garage door can help create a great first impression for a buyer or to welcome you home!
Bathroom/Kitchen Remodel: You can go big or small with this one depending on your budget. Minor facelift for your kitchen/bath could include painting cabinets, installing new appliances or countertops, switching out cabinet hardware, fresh caulk, or light fixtures.
Flooring: Nothing's better than walking into a room with clean carpet or gleaming hardwoods. Buyers love hardwoods, but if it's not in the budget, limit it to public areas where guests will see it and go with a less expensive carpet in the bedrooms.
Exterior/Curb Appeal: A front door replacement also has an ROI over 100%. If that is not in your budget a fresh coat of paint can go a long way. Other low-cost improvements that really give your home the wow factor are exterior power washing, fresh flowers in pots or in the landscape, a clean yard free of leaves and debris, new mulch, and trimmed hedges.
Home Seller Bootcamp Guide – Getting Your House Market Ready