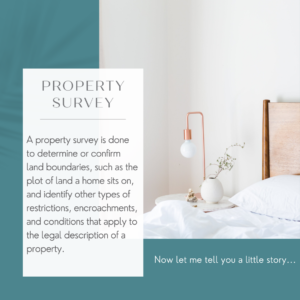 Let me tell you a story…
Recently I helped a family purchase a home that was built in the 1800's in downtown Leesburg. The home was located only a few feet away from the home next door. We didn't have any luck finding a survey from the town so I encouraged my client to order one.
When we received the survey we found the home was about a foot over the property line. Yes, the home! Not a fence, or a shed, but the home. We spoke with the owners of the adjoining property (luckily the owners were the same owners as the property they were purchasing), made some calls, spoke to some attorneys, and were able to obtain an easement agreement – which also stays with the property in perpetuity. We closed last Tuesday! YAY!
The owner of the lot next door was agreeable to the easement agreement and there won't be any issues in the future. But if we hadn't done a survey this family would have bought a home where they may have had major issues down the road.
Is this something that is a common occurrence? No, absolutely not. You may find a fence post or a shed that might need to be moved or adjusted but not the home. It is important to look at the home you are purchasing and discuss with the settlement company and your agent if you should get a survey completed before purchasing the home. Additionally if you are planning to install a fence you will need a survey in order to do so.
This is just another reason why you should hire a REALTOR to guide you through the process and keep you out of trouble! I'd love to answer your questions about this and discuss more, so give me a call or send me a DM.